The freshness, taste and quality are our trademarks
We supply high quality seafood to markets worldwide. The cold water shrimp is our main item, which are exported globally. Our range of products also includes North Atlantic mackerel, wildcaught scallops, greenland halibut and atlantic cod caught and produced in west Greenland.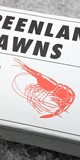 Sustainability
The seafrozen cooked shell on prawns produced onboard our trawlers are certified according to MSC's principles for sustainable and environmentally sound fishing.

The MSC (Marine Stewardship Council) is an independent international organization that aims to promote the responsible use of marine resources and preserve them for the future.
Service
Global distribution
We hold extensive experience in our logistics department, enabling us to provide high quality service to both customers and suppliers worldwide.